Newmarket Traffic Ticket
Sturino Walker Legal Services




Serving the Newmarket and York Region Courts
---
The Newmarket Traffic Ticket Court is currently located at 17150 Yonge Street in Newmarket, and is one of two courts serving the York Region. The Davis Drive location has free parking on-site and is accessible by York Region public transportation.
---
3 Reasons To Fight Your Newmarket Traffic Ticket
1. Demerit Points
If you receive too many demerit points, the Ministry of Transportation Ontario (MTO) can revoke or suspend your licence. MTO is the governing body that monitors your driving to determine if you should keep your licence. They do this by tracking how many demerit points are added to your driver's licence.
2. Insurance Rates
To ensure you keep your insurance rates low, we recommend fighting your Traffic Ticket. When a ticket is in the court process, only you and the officer know about the ticket. The ticket does not appear on your driving record, nor is your insurance company told about the ticket. You must be convicted of a Traffic Ticket for your insurance company to find out that you received one.
3. Licence Suspension
When a Police officer issues you a Traffic Ticket, they may not tell you that the ticket carries a licence suspension. The only way to avoid a licence suspension is to fight the ticket in court. If you are a Class G1 or G2 driver, there are even more licence suspensions you need to be aware of, if convicted of a Traffic Ticket.
---
Newmarket Traffic Ticket Court Information
Contact Details
Phone Number: 905-898-0425
Fax Number: 905-898-5218
Icon Code: 4960
E-Mail: [email protected]
Website: Newmarket Court Website

Hours: 8:30 a.m. to 4:30 p.m., Monday to Friday, excluding holidays.
Newmarket Traffic Ticket Court Location
17150 Yonge Street, Newmarket, Ontario, L3Y 8V3
---
Areas That Report To The Newmarket Traffic Ticket Court
King City Ontario Traffic Ticket
King City Ontario is located just north of Toronto. With many outdoor parks, green spaces, and golf courses, it has become not only a great place to live but to visit as well. If you receive a King City Ontario Traffic Ticket, your matter will be heard by the Newmarket Traffic Ticket Court.
Traffic Ticket in Aurora Ontario
The Town of Aurora takes great pride in its programs, events, and services offered to the public. In doing so, Aurora is a great place to live and visit. Their slogan "You're in good company", is the perfect way to describe this quaint town. If you receive a Traffic Ticket in Aurora Ontario, your matter will be heard by one of the two York Region courts.
Traffic Ticket Gormley
The community of Gormley is part of the York Region and was named after its first postmaster, James Gormley. One of the newest additions to the community of Gormley is the Gormley Go Train station, with trains running daily to Union Station in Toronto. If you receive a Traffic Ticket in Gormley, your matter will be heard by the Newmarket Traffic Ticket Court.
Traffic Ticket Whitchurch-Stouffville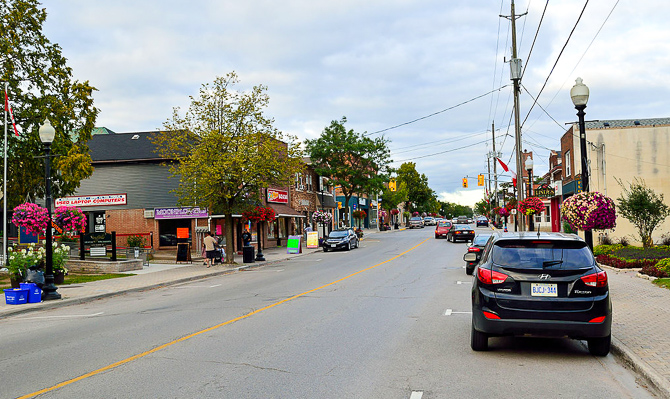 Whitchurch-Stouffville is just north of Toronto and offers a great blend of urban and rural experiences. In 2019, the town decided to drop the Whitchurch from its name for branding reasons. Whitchurch-Stouffville is now known as the Town of Stouffville. If you receive a Traffic Ticket in Whitchurch-Stouffville, your matter will be heard by one of the two York Region courts.
---
FAQs – Frequently Asked Questions About A Newmarket Traffic Ticket
Where Do I Pay A Newmarket Traffic Ticket?
If you want to pay your Newmarket Traffic Ticket or Speeding Ticket, you can pay your ticket online at paytickets.ca, or you can pay in person at the Newmarket Provincial Offences Court located at 465 Davis Drive, Newmarket, Ontario, L3Y 7T9.
How Can I Find My Newmarket Traffic Ticket Online?
You will need a copy of your Newmarket Traffic Ticket that you received. Once you have the Traffic Ticket, you can obtain the necessary information to find your Ticket online.
You will go to the Provincial Offences Act Online Services website and access their Court Case Lookup. Then you will input the ICON Location, which is in the top left-hand corner of the ticket and the Offence Number, which is in the top right-hand of the ticket. Finally, input the first three (3) characters of your last name and click search.
How Will A Traffic Ticket Affect My Insurance Rates?
Every insurance company is different, but most will let you get away with one minor traffic ticket. If you receive multiple traffic tickets, you will likely see an increase in your insurance rates if found guilty of the charges. The severity of the traffic ticket can have a significant impact on your insurance rates.
Commonly, traffic tickets are broken down into two groups: Minor and Severe charges. Minor charges are speeding tickets that carry zero points, while severe charges are Careless Driving or Stunt Driving.
How Will Demerit Points Affect My Driver's Licence?
If you receive too many demerit points, the Ministry of Transportation can suspend your licence for 30 days. The Ministry of Transportation Ontario uses demerit points to track your driving record. If too many demerit points are assessed to your licence, you can receive a warning letter, licence suspension, or have your licence taken away permanently.
Our article, The Demerit Point System, goes in-depth and explains everything you need to know about demerit points.
---
Sturino Walker Legal Services
Sturino Walker Legal is a Paralegal law firm providing legal services for speeding tickets, careless driving tickets, and Traffic Tickets in Newmarket. At Sturino Walker Legal, we strive to deliver best-in-class legal services to the public at an affordable rate. Our goal is to provide knowledgeable, committed, and passionate representation that meets our client's needs
Mr.Walker and his team are amazingly professional. I am a repeat client who will always consider useing Mr.Walker and his team when in any legal situation in the further. The service given made me feel appreciative of working with a lawyer who shows they care for there clients and not just doing a job. Mr .Walker gave me a personal experience as if I was working with family who just happen to be very smart and caring towards others in need of some help. So can't thank Mr.Walker and his team for always doing an outstanding job. 👏
Just want to take a moment to acknowledge Liam for his sound advise and calm demeanor. Thank you very much for your kind thoughts!
sharon mauricio
April 26, 2023.
I recently had the pleasure of working with Sturino Walker Legal on a matter involving the Landlord Tenant Board, and I can't express how grateful I am for their expertise and dedication. From the very beginning, the team displayed a level of professionalism that put my mind at ease, and they walked me through every step of the process. They incredibly knowledgeable about the landlord tenant board, and they took the time to ensure I understood my rights and options. They were always accessible, promptly responding to my calls and emails, and addressed any questions or concerns I had. If you find yourself in need of legal assistance, I highly recommend Sturino Walker Legal for their expertise, client-focused approach, and outstanding results. You won't be disappointed!
Amazing experience, quick replies and super professional! Would highly recommend!
HEIDI SOMFALVI
March 10, 2023.
Rarely will a company put time and energy into someone that they cannot take on as a client. While I would never take advantage of someone's time, since they could not help me, they answered some questions with patience galore and gave me guidance on who to turn to for help. If I ever run into future issues that they cover, this is where I'm turning first.
Sanjeev Bhaskar
January 24, 2023.
It's bit late to review Sturino Walker legal service but I wanted to give review after I've read the full book. I'm glad I chose Sturino Walker for my Landlord and Tenant board issue and Liam conducted the whole length and bredth of the case with full Honesty and Professionalism and tidyness. I was little skeptical about their performance but now I can give them 5 star without hesitation. Thanks Liam
I was absolutely pleased and extremely grateful with Maria Sturino's service. She's very knowledgeable and easy to work with. Maria is very attentive and very honest.. most importantly, she's got your back! I definitely recommend Sturino Walker for your legal services.
Harish
December 19, 2022.
Sturino is the best... I must say.. So helpful. I had so many questions and was so panicked those days. Sturino stood with me all time and answered all my questions and doubts multiple times with soothing tone. I really appreciate and recommend Sturino legal services if you are in trouble.. they are the best 🙂
Our Legal Team
Sturino Walker Legal Services is dedicated to providing clients with the personal attention that they deserve. For that reason, the team at Sturino Walker Legal Services is comprised of two licensed and experienced Paralegals, Liam Walker and Maria Sturino. They personally handle each case from beginning to end. For more information, we invite you to Meet The Team.
How We Can Help
We're your partner in your pursuit of justice. We know that the legal system can be confusing and overwhelming. At Sturino Walker Legal Service, we take the time to explain your legal rights and options. We take care of everything from start-to-finish and are with you every step of the way. We file your traffic ticket, order the officer's notes (disclosure), attend court on your behalf, handle all correspondence, and any necessary negotiations. We strive to ensure that this process is as stress-free as possible for you.
Where We're Located

16 Four Seasons Place, Suite 109
Etobicoke, Ontario
M9B 6E5
Nearest Major Intersection:
Highway 427 and Burnhamthorpe
Contact Information
Telephone: 905-738-7171
Fax: 647-932-8224
Hours:
Monday to Friday – 9:00am to 5:00pm
Saturday & Sunday – By Appointment Only
Areas of Service
Newmarket
Richmond Hill
Orangeville
Caledon
Vaughan
Barrie
Brampton
Mississauga
Toronto
Scarborough
Etobicoke
Whitby
---
Request A Consultation
Fight Your Newmarket Traffic Ticket
Please fill out the form below to request a FREE consultation with Sturino Walker Legal Services.